Michael Jackson made me think of Gene Hackman.
This all makes perfect sense, although perhaps only in my head.
So Michael Jackson and Farrah Fawcett die on Thursday. And I find out two days later that Sky Saxon, leader of legendary garage rockers the Seeds,
also died that day
.
"Pushing Too Hard" was featured on one of my favorite albums
Nuggets
, a great two-record set of the finest psychedelic and garage music of the 60s. (The record was assembled by Lenny Kaye, who selected the tracks and wrote great liner notes. I remember distinctly having a two-hour argument in college between 2 and 4 in the morning about what made Lenny Kaye cooler:
Nuggets
or playing lead guitar in the Patti Smith Group... although I can't remember which argument won out.)
Anyway.
This made me think of the great Australian band
Hoodoo Gurus
, whose 1984 debut album
Stoneage Romeos
was named for a Three Stooges short and was dedicated to characters from
Get Smart, F-Troop,
and
Petticoat Junction
. That album features a great rave-up celebrating all things Nugget-y called "(Let's All) Turn On," which kicks off:
Shake Some Action, Psychotic Reaction
No Satisfaction, Sky Pilot, Sky Saxon
That's what I like...
(and just gets cooler from there, name-checking everyone and everything that made Little Steven want to host
the Underground Garage
radio show).
But I digress (again).
So... I go onto YouTube to look for Hoodoo Gurus videos and find a song I'd never heard of called "Gene Hackman." I played it (and
you should too
) because I thought it was the same as the
Robyn Hitchcock
song "Don't Talk to Me About Gene Hackman." But it's not -- it's a totally different song (which -- as far as I can tell -- first appeared on 1998's
Electric Chair
album).
Hitchcock's song is a hidden bonus track on the
Jewels for Sophia
album... and, due to YouTube's recent frenzy of take-downs, I couldn't find it there. But
here's a link
to a live recording.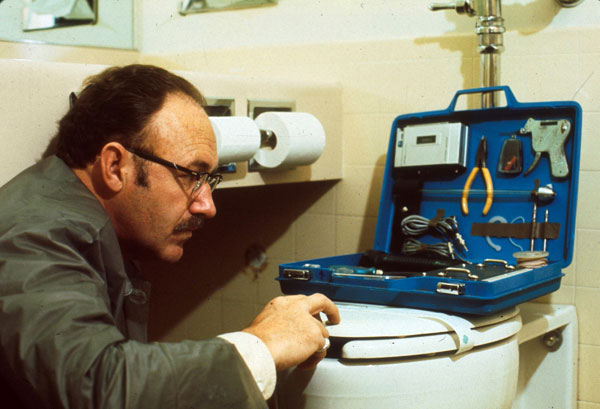 Both songs came out in the very late 1990s, both by musical artists I love (and started loving around the same time in the 1980s). Both songs are fun (and very much in character with their creators), but they couldn't be more different. And yet, both of these songs are about the exact same thing: the fact that Gene Hackman seemingly was in every movie that came out for a period of 3 or 4 years.
What are the odds of that?
Probably about the same as Michael Jackson, Sky Saxon, and Farah Fawcett all dying on the same day.
(On a related note, I'm happy to report that Gene Hackman is still alive and well...)